Domestic Cleaning
Home Cleaning Service in Sydney
Cleaning of your home on an as-needed basis or on a scheduled basis
Prior to or after parties
Availability outside of normal business hours, seven days a week
Experts in pre-inspection spring cleaning
Cleaners who are fully insured, vetted, and experienced
Thorough sanitisation of your most traffic heavy areas
Adaptable to your lifestyle requirements on short notice
Friendly, dependable, and all-inclusive cleaning service
Guaranteed satisfaction
Maintain a happy, healthy, and immaculately clean home at all times
Competitive prices and multi-service discounts are available
Booking is simple and quick with a cleaner you can trust
When You Need Home Cleaning Services
Like Cleaning- Home cleaning service in Sydney , gives you the benefit of having your Sydney housekeeping available to you 7 days a week, and even after hours. We are here, simply a call or click away, if you find yourself in a predicament where you just have run out of time to get your home clean and to the standard you'd like.
As home cleaning Sydney preferred spring cleaner, we specialise in bringing your house back to its very best. If you plan to host an event or have a routine inspection, let us prepare your home for the occasion. Contact Like Cleaning and let's get your home clean!
Bathrooms Done Right
After the kitchen, the bathroom is often the hardest room to clean in the house. Where to start? Filthy shower tiles, dirty floors, soap scum in the bath, lime and rust build-up can be downright difficult to remove. Also, why spend unnecessary money on domestic cleaning products that can't clean to the standard that you really want? Over the years, thousands of bathrooms have been cleaned by Like Cleaning. Without you even lifting a finger we know how to get the job done right! If you think that you've let your bathroom go for too long, today is the day to call Like Cleaning!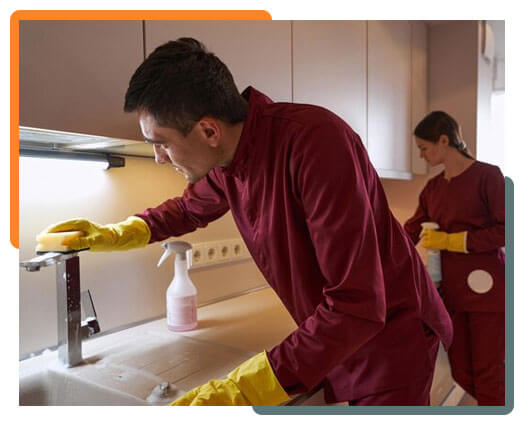 How We Clean Your Home Effortlessly:
1
Typically, we begin in the kitchen. Given its central location in the majority of people's homes, we ensure that we wipe clean and sanitise all surfaces. We carefully clean the sink area, cooktops and any electrical appliances. Additionally, the oven can be cleaned if necessary.
3
The entire living area and all surfaces, including windowsills, shelves, and benchtops, are dusted.
5
All floors, including carpets and rugs, are thoroughly cleaned and wet mopped to a like-new state.